The results are summarized below by category.
STYLE
– 50% Transitional
– 25% Traditional
– 25% Contemporary


CABINETRY CONSTRUCTION
– 20% Full Inset
– 75% Full Overlay
– 5% Full Access (European Frameless)
CABINETRY FINISH
– 50% White Paint
– 5% Other Paint
– 5% Paint and Glaze
– 40% Wood with Stain
APPLIANCES
– 60% Professional (Sub Zero, Wolf, GE Monogram)
– 40% Other (low to mid range)
APPLIANCES FINISH
– 75% Stainless Steel
– 25% Panel Ready
COUNTERTOPS
– 95% Stone (Marble or Granite)
– 5% Engineered Quartz (Cambria, Caesarstone, Silestone)
BACKSPLASHES
– 100% Tile
FLOORS
– 80% Wood
– 20% Porcelain Tile or Stone
Interesting results. Over this past year, I have noticed clients choosing simpler, more transitional styling while choosing to express themselves through complex or interesting textures in their flooring, countertop, or backsplash tile selections.
Interesting to compare my observations to this recent Washington Post article about kitchen design trends.
Stay tuned for 2014 trends. My instincts are that the trends in 2013 will remain strong in 2014.
Selected 2013 Kitchen Remodeling Projects by Expert Kitchen Designs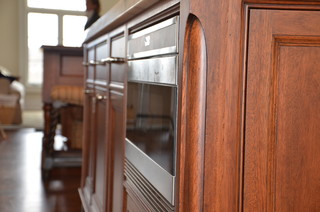 ---
Sandra Brannock designs beautiful, timeless, functional kitchens that reflect your personal style, within your budget. She helps discerning homeowners throughout Northern and Central Virginia, Maryland and Washington DC get the kitchen of their dreams and select the perfect cabinetry, fixtures, flooring, lighting, and appliances to make their dream kitchen a reality.
Call Sandra today at (703) 801-6402 to schedule a kitchen remodeling consultation. Sandra will help you get the most value out of your kitchen remodeling budget and ensure that all the details of your kitchen renovation proceed smoothly, on time and within budget.
As 2013 draws to a close, I took a few moments to review all of the kitchen projects I had designed during the past year to see if I could discern any noticeable patterns or trends. The kitchens I designed ranged in size from small to large for clients with modest to generous budget allowances.